Welcome!

"HOME OF THE JR. COUGARS"
The mission of the L. P. Jackson Middle School is to ensure that all students will become and will excel as:

• lifelong learners
• independent thinkers
• responsible citizens

We, therefore, accept the responsibility to educate all students to their fullest potential.
The L. P. Jackson Middle School's faculty and staff acknowledge that the fulfillment of this mission statement depends on the active participation of:

• school
• home
• community

We embrace this partnership to ensure success.

---
Luther Porter Jackson Middle School is named after a Virginia Educator, Luther Porter Jackson. It is also named after the former Luther Porter Jackson High School which was located in Dendron, VA. The class photos and other artifacts from the former high school are located in the lobby. Please feel free to visit the school to see these historical items.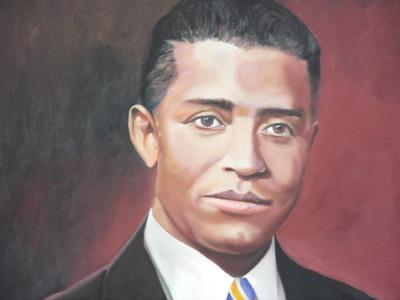 PHILOSOPHY

The philosophy of Luther Porter Jackson Middle School reflects the belief that all students can learn. We believe middle level students have very special needs and characteristics that are directly related to that critical age called early adolescence. During this period of rapid social, physical, intellectual, cultural and emotional growth, school curriculum must reflect each student's need to develop a positive self image, to form future goals and to concentrate on becoming a productive citizen. This awareness must take place through a relationship of mutual respect, cooperation and understanding among students, parents, teachers and administrators.

The faculty, staff and administration are committed to helping the students make the transition from elementary to high school a gradual process. L. P. Jackson Middle School will continually strive to create a safe learning environment that provides stability and promotes self-confidence in each student, is sensitive to the needs of each student and maximizes each student's potential.

The students, parents, community, faculty and staff share the responsibility for the education of every student at L.P. Jackson Middle School. The involvement, understanding, pride, determination, acceptance and support of each group are essential to the success of the L. P. Jackson program.
21st Century Community Learning Centers




Our 21st Century Community Learning Center (CCLC) is funded by a 21st Century Grant which is a part of the NO Child Left Behind Act (NCLB).

The 21st CCLC partnered with Surry County Parks and Recreation, Surry County Office On Youth, Surry County Cooperative Extension Agency, Surry County Distinguished Men's Club, Inc. and Slade Farms has put together a very enriching and fun filled schedule for the students of Luther Porter Jackson Middle School.

For further information or eligibility, please contact:

Ms. Trina Craddox—Principal

Mr. Todd Neal—Assistant Principal

Mrs. Brittney Johnson—Project Manager

Instruction

The 21st CCLC's after school instructional program will consist of daily homework assistance for approximately 30 minutes each day by highly qualified staff. Approximately 75 minutes daily intervention/tutoring will occur after school each day. Students will review taught concepts and study for quizzes and tests.

English / Math - Daily

Science / History—Two Days/Week

Students will participate in fitness/sports activities from 30 minutes to an hour a day, depending on their departure time from the program after school.

The 21st Century Community Learning Center's Program Activities to be offered:

Remedial Education Activities

Academic Enrichment Learning

Mathematics and Science Education

Entrepreneurial Education

Tutoring Services

Recreational Activities

Telecommunications and Technology

Expanded Library Services

Parental Involvement

Family Literacy

Character Education